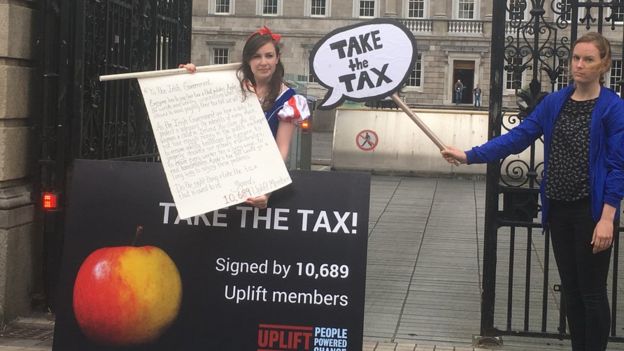 The Republic of Ireland's cabinet has agreed to appeal against the European Commission's ruling that

Ireland granted undue tax benefits of up to €13bn (£11bn) to Apple

.




Taoiseach Enda Kenny said he made no apology for defending the Irish government's right to appeal.

The decision to appeal was agreed by the Irish cabinet on Friday morning.

Apple chief executive Tim Cook said he was "very confident" the ruling would be overturned on appeal.

He called the European Commission's decision "maddening" and "political".

Speaking after the cabinet meeting, Mr Kenny said: "This is about Ireland, it is about our people, it's about us as a sovereign nation, actually setting out what we consider our appropriate policies".

Note EU

-Digest: either the Irish Government went crazy or they made a secret deal with Apple.
This is Apple and Ireland in terms of the back taxes Apple owns.
€13bn
demanded in back taxes. Equal to:
ALL

of Ireland's healthcare budget


66%

of its social welfare bill


15 million

iPhones


27%

of Apple's 2015 profit

Read more: Apple tax: Irish cabinet to appeal against EU ruling - BBC News