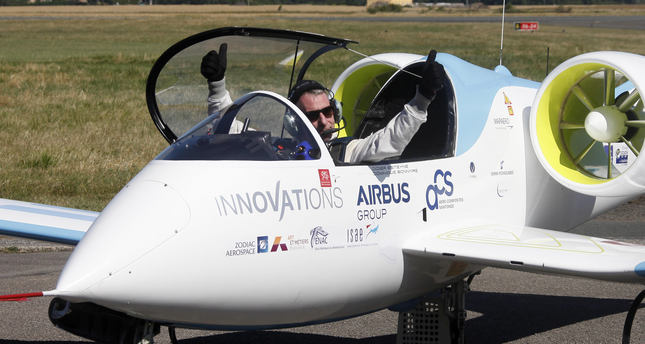 AP Photo
The E-fan electric plane of European planemaker Airbus has made history by being the first battery-operated electric plane to fly over the English Channel.
Flying from Lydd, England, to Calais, France, recently, the environmentally-friendly plane which operates on batteries only, uses no oil or water. Thanks to that feature the 20-foot long, 1300-pound jet releases absolutely no emissions.
Several companies in different countries are trying to develop electric planes in hopes of offering a fuel-free and emissions-free flight alternative for the future.
Earlier, pilot Hugues Duval flew from Dover, England, to Calais on a two-engine, one-seat Cricri plane, which weighs about 100 kilograms (220 pounds). He said reached 150 kilometers (90 miles) an hour on his 52-kilometer (31-mile) journey.
Duval told The Associated Press that his successful flight was a "relief" and an "important moment" after years of developing the plane and flying it over land.
Airbus' E-fan took its maiden voyage in March 2014, and has taken off 100 times since, its latest at Paris's International Air Show last month. Airbus aims to put the two-seater on the market in 2017, targeting sales at training facilities for entry-level pilots.
Read more: Airbus electric plane makes history by flying over English Channel - Daily Sabah