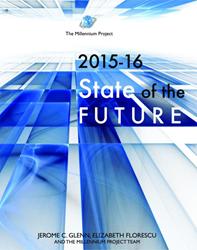 The
"2015-16 State of the Future"
just released by The Millennium Project gives trends on 28 indicators of progress and regress; new insights into 15 Global Challenges; impacts of artificial intelligence, synthetic biology, nanotechnology and other advanced technologies on employment over the next 35 years; and how economic change is inevitable by 2050.
"This 'World Report Card' may have more data, information, intelligence, and wisdom about the future of the world than has ever been assembled in one report," says Jerome Glenn, CEO of The Millennium Project and lead author of the report. "It should be read in pieces and kept on your desk as a reference." The 14-page executive summary is freely available in several languages.
The Millennium Project
is a global participatory think tank connecting 56 Nodes around the world that identify important long-range challenges and strategies, and initiate and conduct foresight studies, workshops, symposiums, and advanced training. Its mission is to improve thinking about the future and make it available through a variety of media for feedback to accumulate wisdom about the future for better decisions today. It
produces the annual "State of the Future" reports, the "Futures Research Methodology" series,
the
Global Futures Intelligence System (GFIS),
and special studies.
For additional Information
click here
EU-Digest