A series of incidents finally forced Turkish President Recep Tayyip Erdogan to interrupt his visit to the United States, where he planned to attend the funeral ceremony for boxing icon Muhammad Ali.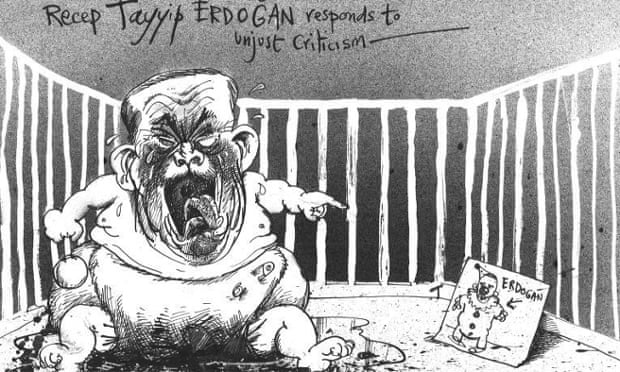 President Erdogan always acting like a spoiled kid
Turkish President
Recep Tayyip Erdogan
quickly interrupted his visit to the United States after an array of incidents ahead of the funeral service of boxing legend Muhammad Ali in his native city of Louisville, Kentucky, which Erdogan planned to attend, according to
the Turkish newspaper Hurriyet
.
The newspaper quoted presidential sources in Ankara as saying that Erdogan moved to depart for Turkey without taking part in the full funeral ceremony for the late boxer, which was attended by former US President Bill Clinton, Jordan's King Abdullah and former Afghan President Hamid Karzai.
When participating in funeral prayers for Ali on June 9, Erdogan reportedly tried to a put a piece of cloth from the Kaaba on the boxer's coffin but was refused the opportunity to do so.
Eyewitnesses said that the organizers allegedly offered to put the piece of cloth on the casket themselves later on
However, another report claimed that Erdogan and Mehmet Gormez, head of Turkey's Religious Affairs Directorate, were also forbidden to read a piece from the Quran near the boxer's coffin.
Apparently, this proved to be the last straw, and compelled Erdogan to cut his trip short and return home.
Meanwhile,
the Voice of America's Turkish edition
reported that a short quarrel also erupted between US secret service officials and Turkish presidential body guards during Erdogan's visit to the Muhammad Ali Center in Kentucky.
The embattled
Turkish President
has, for his part, recently faced international condemnation for his repeated crackdowns on political opponents and journalists, along with his administration's continued practice of buying oil from and funneling armaments to Daesh terrorists.
Note EU-Digest: Turkish President Recep Tayyip Erdogan also is being criticized by members of the opposition at home for wasting Tax Payers money on these overseas self-promotion tours.
This one to the US where Erdogan wanted to play a major role during the commemorative event for Muhammad Ali certainly backfired
Read more: Not the Greatest: Erdogan Snubbed Ahead of Muhammad Ali Funeral, Departs US